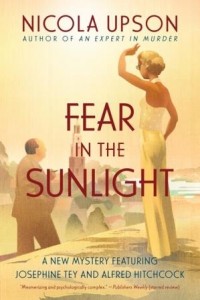 'Do you mind if we stop for a moment?'
- p. 3 (ARC, page may change)
'So you will help me?' There was a pathetic pleading note in her voice which Branwen despised herself for [..]
Synopsis: Summer, 1936: Josephine Tey joins her friends in the resort village of Portmeirion to celebrate her fortieth birthday. Alfred Hitchcock and his wife, Alma Reville, are there to sign a deal to film Josephine's novel, A Shilling for Candles, and Alfred Hitchcock has one or two tricks up his sleeve to keep the holiday party entertained—and expose their deepest fears. But things get out of hand when one of Hollywood's leading actresses is brutally slashed to death in a cemetery near the village. The following day, fear and suspicion take over in a setting where nothing—and no one—is quite what it seems.
Such a delicious mystery. And I adore Hitchcock. I do.
Happy Friday everyone!