Of nudists, family secrets, and complicated lives.

Synopsis of Whistling Women by Kelly Romo:
A buried secret keeps two sisters apart.
Life went terribly wrong for Addie Bates in San Diego, and she's been running from dark memories ever since. For fifteen years, the Sleepy Valley Nudist Colony has provided a safe haven for Addie to hide from the crime she committed. But when the residents pack up to go on exhibit at the 1935 world's fair in San Diego, Addie returns and must face the thrilling yet terrifying prospect of reuniting with her estranged sister, Wavey.
Addie isn't the only one interested in a reunion. When her niece, Rumor, discovers she has an aunt, Rumor is determined to bring her family together. But it's not so easy when the women are forced to confront family secrets, past and present.
Set against the backdrop of the 1935 world's fair, Whistling Women explores the complex relationships between sisters, the sacrifices required to protect family, and the devastating consequences of a single impulsive act.
My two cents
A whistling woman and a crowing hen always come to a bad end. - Proverb
That opening proverb sounds so dire, but this book proves it true yet is anything but.
This was a first for me on two fronts -- I've never read anything involving a nudist colony nor of the
world's fair
. And while I thought this would be more heavily a historical fiction piece, I got a rather complicated family story too!
This book was extremely engaging, from plot to setting, it felt like a world fair of sorts! The first part was a fascinating look into life in a nudist colony -- of the philosophy of the people behind it, the general lifestyle and activities, and of Addie's decision to join the group and to rebuild her life. The remainder of the book focused on the revelation of what Addie had done and how events (and people) conspired to a satisfying ending.
This is told in alternating voices of two innocents: Addie, the wayward sister and of Rumor, her niece.
The heart of this book is undoubtedly its characters. Addie was an interesting study since throughout the book since she is painted as the greatest thing since sliced bread ... if but for the secret that had estranged her from her sister Wavey. Wavey, meanwhile, was a much more complicated character; her unpredictable and sorry life a manifestation of many a sad turn of events. Rumor was the clincher; sassy, rash and hardheaded, she is larger than life in contrast to her darling, meeker older sister Mary.
Uh ohs
I enjoyed the entire book despite its length. However, there are a few niggly things that didn't sit right with me:
The backdrop of the world's fairs got me pretty excited but there was little in the book except for the minimal descriptions in relation to the expo of the nudist colony.
The nudist colony spin felt too obvious and convenient an allegory for freedom. This is even voiced out -- I thought it would have been better to leave that well alone.
There were some times that this started feeling chick-lit-ish and melodramatic to me, not necessarily a bad thing since it makes for extremely easy reading.
I was slightly irked by the name Rumor. In getting to know Wavey, I felt that this was quite against her character, and despite her desire to keep all things on the lowdown, naming your child Rumor was bound to raise a few eyebrows.
Verdict:
Get to know the Bateman family, where secrets abound and unravel and where happy endings aren't to be ruled out. An enjoyable historical fiction that will give you a peek into nudist colonies and world fairs.
About Kelly Romo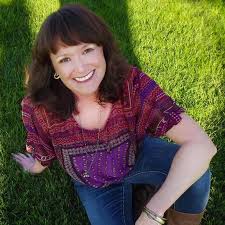 Kelly A. Romo
currently lives in Oregon with her three children where she teaches writing, literature, and social studies. She loves the outdoors; hiking, kayaking, and camping. Kelly grew up in California running around with all her thrill-seeking cousins and siblings; jumping off cliffs into the Colorado River, exploring caves on the beaches of Mexico, riding dirt bikes, water skiing, and snow skiing.
Connect with Kelly:
Website
|
Facebook
|
Twitter

I received a copy of this book from the publisher via TLC Book Tours in order to participate in this tour with an honest review. Don't forget to check out the rest of the tour here.
Paperback: 414 pages
Publisher: Lake Union Publishing (November 17, 2015)
Giveaway